As the saying goes, "good fences make good neighbors." While this may be true, you may have a desire for a non-traditional fence. Have you considered a living fence? This fence is beautiful, and when done correctly, can provide more than ample privacy for both you and your neighborhood. Furthermore, a living wall can act as a refuge for wildlife and a windbreak. Read on to discover the best shrubs for creating a vibrant and effective living fence!
Shrubs are an excellent choice for a living wall. Making the right shrub choice is essential, however, as not all shrubs make great privacy fences. The first step is to decide on what you want your living fence to look like. You can choose a loose border type or a hedge type. 
Creating a loose border fence
Creating a loose border fence is an attractive way to put a little privacy between you and you and your neighbors. One of the best things about creating a loose border is that they are, after planting, fairly easy to maintain. Where hedges require consistent pruning on all sides, loose borders are created from a combination of shrubs and plants that have a loose growth habit and require only minimal pruning and care once they are established. 
Selecting shrubs 
Select shrubs that will reach the desired height of your fence at maturity. One of the biggest mistakes that people make when planting a loose privacy fence is to purchase shrubs that will outgrow your plans for your living fence. This will force you to do some extensive pruning to get and keep things in order. Better to make wise choices upfront with your shrubs. A little planning goes a long way.  Here are some other things to consider when choosing shrubs.
The texture of the shrub's foliage and bark.

The color that the shrub provides through foliage, fruit or bloom.

The form or shape of the mature shrub.
Layering is important
When you create a loose border living fence, it is crucial to use a layering impact. Put your tallest shrubs in the back and shorter shrubs and even tall perennials in the middle row and shortest plants in the front.  Here are a few planting tips to keep in mind:
Place "like" plants in odd number groups such as in 3's. If you use even-numbered plants, it creates a more formal, symmetrical design that does not conform to the nature of a loose border.

In "tie-in" areas, use repetition. For instance, if you plant a group of three echinacea plants in one spot of your living fence, repeat with the same color elsewhere in the row.
Shrubs that work well in living privacy fences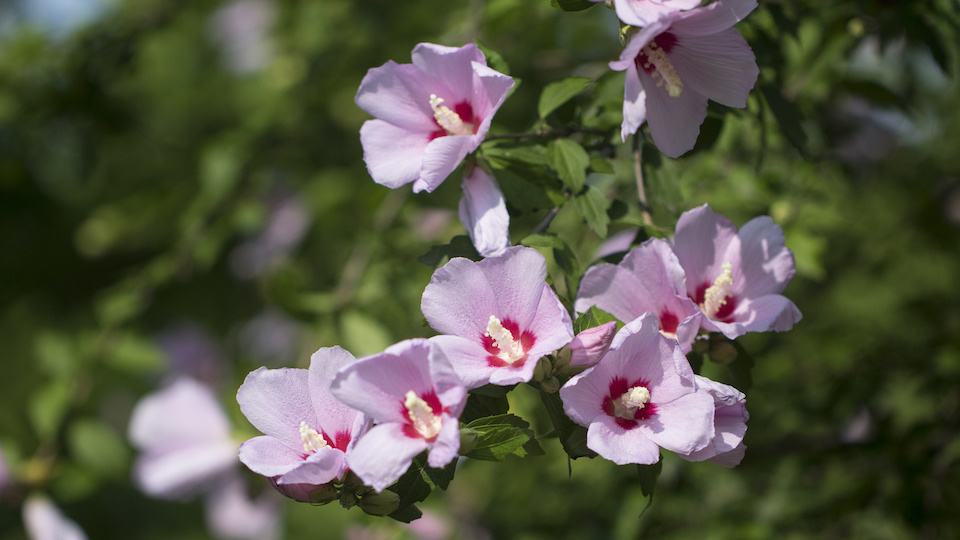 Here are some excellent choices for shrubs for your loose border privacy fence, starting with the tallest and moving to the shortest.
Blackhaw viburnum –

This is a deciduous shrub that has white flowers in the spring that become edible fruits by fall. The foliage on this beautiful shrub turns an attractive purplish to bronze and red in the fall. Growing to 15 feet in height, this shrub also reaches about 12 feet wide and is great in planting zones 3 to 9.

Rose of Sharon

– If you are after a medium height flowering shrub, this is a great choice. Also known as Althea, this bush will reach 8-10 feet in height and has a 4-6 foot spread. Regular pruning will keep these beauties looking their best. You can choose from a rainbow of colors, including red, pink, purple, blue and white. Rose of Sharon is an excellent plant to include in shrub borders because of its nice, upright shape. You can even use just a row of these shrubs for a colorful stand-alone privacy fence in zones 5-9.

Viburnum trilobum –

This bush has a compact and dense form. Suitable for the front row in a loose border, this 4×4 foot rounded shrub blooms in late spring. White blossoms turn into red fruits in the fall. Birds love the berries. Leaves that are glossy green in summer become purplish-red in the fall. This shrub is extremely cold tolerant and can be grown as far north as planting USDA zone 2.
Why include two viburnums?
I love viburnums in a privacy hedge because they provide interest all year long. Beautiful spring flowers, large leaves with interesting texture and fall foliage, and beautiful berries that will showcase your fence. There is even winter interest with beautiful branching structures.
What about year-round privacy?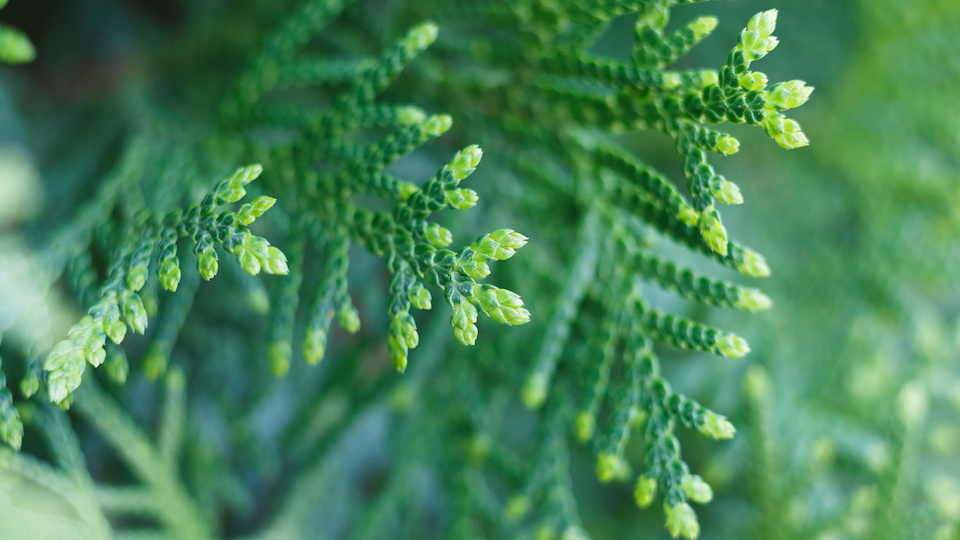 If you are looking for all year privacy, you will need to turn to evergreen shrubs. Good choices include:
 Emerald arborvitae –

This small tree or large evergreens shrub works well in a loose border fence. It has flat, long-lasting needles and a very dense growth habit. Little maintenance is required to keep this shrub looking its pest. Emerald arborvitaes grow to a height of 15-20 feet and a spread of about 4 feet.
Irish juniper –

This is a favorite evergreen shrub with a dense growth habit and narrow, column-like form. Growing up to 10-12 feet in height and with a narrow width, this shrub will keep out sounds and sights and has a wonderful bluish-green color and is hardy to zone 3.
Little Red holly – 

This beautiful shrub has a dense growth habit and compact nature growing to 5×5 feet, making it a great addition to any privacy fence. These evergreen shrubs produce attractive red berries and enjoy full sun or partial shade. Well-drained with a slightly acidic pH is best. Cold hardy to USDA planting zone 6, this holly is ideal for a screen around a pool as there are never any needles to clean up. You can also sculpt this shrub into a beautiful shrub.
Using hardscape and softscape elements to create a beautiful living fence
It is important to know that hardscape and softscape elements can be mixed together to create an attractive fence. You can dress up a wooden or other fence with beautiful vines like climbing roses or honeysuckle. You can use a hardscape fence and soften it up with a shrub or vine, which can give your yard a very modern feel, but still provide plenty of privacy between you and your neighbors. 
The sky's the limit
When it comes to creating a beautiful living fence, the sky's the limit. However, there are a few things to keep in mind before you begin. It is always a good idea to speak with your neighbors before creating your living fence, as they may not want to deal with a shrub on their side of the divide. Always remember to do a great deal of planning before digging and have your yard mapped for underground utilities so that you don't end up cutting an important line. Trust me, I have been there done that!
Have fun!
-Susan Patterson